This shoot was one of the most difficult shoots I have ever done but also one of the most gratifying.
The Concept
Over the first half of 2013 I had shot and completed my Multiscapes series and was looking for a follow-on. In December of 2013 I worked with the amazing body painter Trina Merry on a shoot for Brand X Liquid Latex and was looking at some of her past work when I saw her rainbow painted hands. I had seen this photo before, but this time I had an epiphany to redo my Multiscape series with 7 models painted with the colors of the Rainbow.
The Challenge
With Trina was on board, the challenge became finding 7 models and a date that would work for all 9 of us involved. It ended up taking 3 months but we finally set a date for late March.
Construction Time
With the shoot a week away I realized that I needed something to elevate the rear-most models. With the Multiscapes where I had 5 models I used pallets and pads for the rear 3 models, but that wasn't ideal for 7 models, so I decided to build an angled platform for the models to lay on. It ended up being 8'x8′ with a 16″ rise from the front to the back. I thought I was all set and then 2 days before the shoot I had another shot idea where I wanted the models to sit on boxes at different heights to simulate the curve of a rainbow. So in one day I built this stand.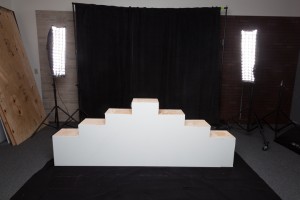 Haven't edited the photos with this prop yet, but it worked great.
A Model Flakes
The night before the shoot one of the models told me her ride flaked so she wouldn't be able to make it. I panicked at first but then realized there were a lot of ways to solve a transportation problem. So have some discussion she agreed to ride the train from San Francisco down to San Jose where I would pick her up. Crisis averted or so I thought.
Day of the Shoot
We had a 9am call and everyone was on time except for the model that was taking the train. Turns out CalTrain had a system wide computer failure that morning and the trains were a mess. The normal 1 hour ride was taking 2-2.5 hours. I texted the model that it was no problem we would just paint her last and let me know how it was going. Radio silence, no response at all from the model. I called, I texted, no response. In fact she has never communicated with me since the night before the shoot.
So I admit I did have a little panic at this point. We could do the colors of the rainbow with 6 models, but compositionally odd numbers work so much better. So Trina, myself, and all the models started contacting every model we knew trying to find a replacement. In the meantime the painting began. Around 11am I finally found a replacement model who was an hour away and was on her way. So crisis averted.
Painting the rainbow colors went relatively quickly and by noon everyone was pretty much painted, but Trina pointed out that they looked a little blah and suggested adding patterns over the base color. That sounded great so she got started only to find out that her air brush compressor wasn't working very well. So she went to her studio 20 mins away to get a replacement. We finally got back on track in the early afternoon. Adding the patterns turned out to be a long process but finally around 6pm we were ready to shoot.
The Shoot
Unfortunately I never took a shot of my setup for this shoot. For lighting I used to gridded strip boxes behind the models at 45* to the camera pointed towards the camera. I also used a 60″ Parabolic umbrella on a boom arm over the models and angled slightly away from the camera.
I had a shot list with over 30 shots I wanted to get and we worked through them fairly quickly. The total shoot time was little over 2 hours. All of the models where great and we had a lot of fun on this shoot.
Behind the Scenes video of the shoot.
Behind the Scenes – Rainbow Mutliscapes from Craig Colvin Photography on Vimeo.
Credits
This shoot would not have been possible without the support of the models and Trina Merry. Thank you all.
Bodypainter
Trina Merry
Models
JenJen Wong
Syren Lestat
Anna Rose
Kerstin Tuning
Poisoned Grace
Venus Star